Jennifer is the CEO/Founder & President of Pederson Properties, which she created when she began her Real Estate Career in 2003. She has always made it a top priority to make Pederson Properties affiliate with the Best of the Best in the Real Estate Industry. Jennifer immediately partnered Pederson Properties with the #1 Real Estate Firms — both Nationally and Internationally — Realogy/NRT LLC, and Windermere Real Estate.
Jennifer represents Luxury Real Estate, Buyers, Sellers, and Investors. She has extensive background in Real Estate, Professional Business Standards, the Hospitality Industries, and Marketing/Technology, which she uses to her and her Clients advantage. She listens + assists in all of your Real Estate needs and ventures; whether interested in leasing, purchasing, selling Residential or Commercial properties.
It is important to Jennifer to consistently set the Industry Standard by providing her Clients with the very BEST quality of service + exceeding expectations. Clients of Jennifer's vary from First-Time Homebuyers to Seasoned Buyers and Sellers, including Investors and Corporations from all over the world. Affiliate with the best names in the industry and quality experience, you will feel confident with the representation Jennifer provides.
While Jennifer is able to assist with your Real Estate ventures both Local & Global, she is specifically licensed in Washington State, Hawai'i, California, Alabama and bordering states.
Contact Jennifer today to see how her years of experience in Real Estate, Hospitality, Business, Marketing and Technology can be used to your advantage!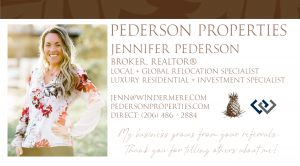 Jennifer Pederson, REALTOR®
Representing Local + Global Luxury Real Estate
2019, Washington State Governor of Women's Council of REALTORS®
Immediate Past President of Women's Council of REALTORS® Greater Snohomish
2019, VP of Communications for Snohomish County Camano Association of REALTORS®
Jenn@Windermere.com | PedersonProperties.com